String Ensemble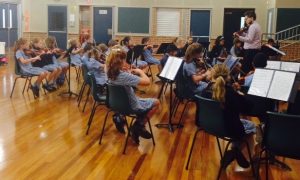 The Ensemble was founded in 2001 by a then parent, Mrs Naira Yusufova. The group has since flourished, now comprising some 30 violin and cello players from Kindergarten through to Year 6.
Within the greater ensemble, our senior Festival String Ensemble (FSE) is also open to students of higher proficiency levels. Entry to the FSE is by invitation should a student qualify.
The Ensemble is trained and directed by Mr James Gastineau-Hills. James brings many years of experience as a professional musician and violin teacher, and is a school parent with children attending PHPS.
Our Ensemble leadership provides valuable support and encouragement, and fantastic opportunities for children to grow in confidence and skill with their instrument.
The String Ensemble has it's own website here: https://www.phpsstrings.org/